Q&A Expert Co-Host Night ~ NAASCA BlogTalkRadio ~ THURSDAYS @ 8pm EST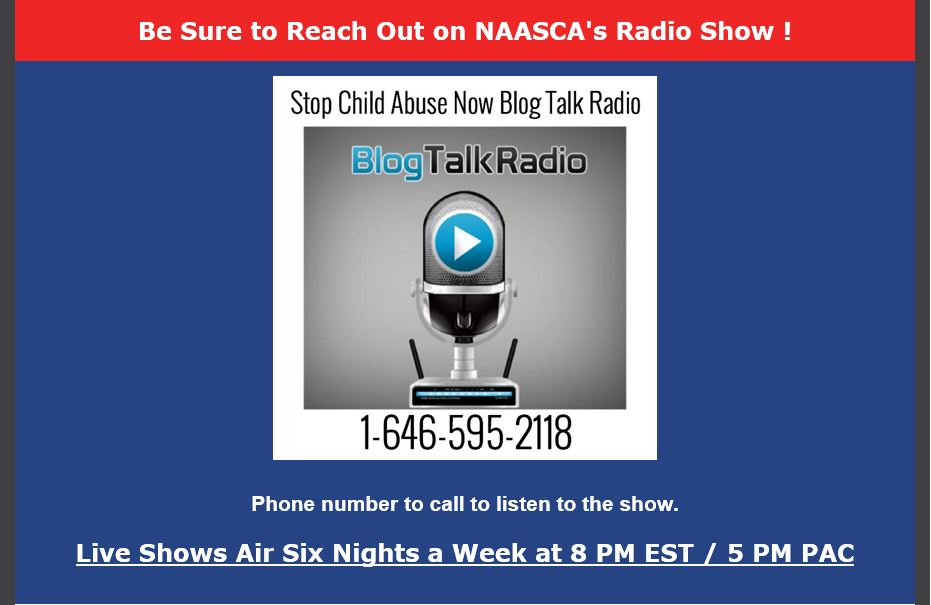 HOW TO LISTEN:  Go to SCAN BlogTalkRadio page. For the next LIVE show, under "Upcoming Broadcasts,"click the link to the upcoming show. On the episode page, at 8pm EST (show time), click the PLAY buttonin the middle of the NAASCA logo.
HOW TO CHAT:  Comments can be added below the live player on the episode page.
---
On Thursdays:
Each week, NAASCA welcomes a co-host survivor-professional to assist NAASCA founder, Bill Murray, in fielding questions and leading discussion on topics suggested by Call-In participants. Their trauma-informed perspectives as survivor-professionals will help inform discussions on the issues of child abuse, trauma and healthy human sexuality that spring from questions and topics posed by NAASCA BlogTalkRadio listeners via the LIVE Call-In Q&A phone line. Live chat is also supported via the BlogTalkRadio episode page.
Everyone is invited to engage in the evening's show, on the phone or in the show's community chat room.
---
About Your Hosts
Bill Murray
Bill is a nationally respected public safety and child abuse prevention, intervention and recovery advocate. He runs the world's largest grassroots nonprofit effort devoted to community-based policing, Los Angeles Community Policing (LACP) which has been continuously published since early 2002; and is also is the founder of the National Association of Adult Survivors of Child Abuse (NAASCA), a 501(c)3 charity organization with the single purpose of addressing issues related to childhood abuse and trauma including sexual assault, violent or physical abuse, emotional traumas and neglect from two specific perspectives: 1) educating the public, and 2) offering hope for healing and services to adult survivors.
Bill writes,
"Very few adults escape years of severe childhood sexual abuse, pre-pubescent X-rated photography, sex trafficking and a two week long kidnapping. But I have, and for some 35 years I've been in recovery from its devastating effects. Once my parents were gone, I decided to devote my remaining time, money and available energy to this vitally important cause."
Michelle Bless  ~ 1st Thursday of each month
Michelle is a Minister and Chaplain from Cincinnati, OH. She is a survivor of severe child abuse and author of the book "Out of Darkness: the Michelle Bless Story," her story of redemption. In 1997, Michelle writes that she, "..was introduced to the Lord and denounced Satan," thus beginning the process of giving her life to God. Michelle is on a mission to bring as many lost souls to God as possible. Her firsthand knowledge of how low a life can plummet to the depths of despair enables her to understand and relate to what others are facing as they struggle to find God in their lives.
Dr. Laura will be joining us each month from New York City. She is a nationally recognized Sexologist and survivor of Domestic Violence with a unique perspective on prevention and recovery. A specialist in human sexual behavior, she'll share about consent, inclusion, and equity, using trauma-informed approaches.
Lorna Littner, LMSW, MS (in Public Health) ~ 3rd Thursday of each month
Lorna is a Licensed Master Social Worker from New York City and a survivor of sexual abuse by her grandfather. Lorna has spent most of her career as an educator in the field of human sexuality, teaching all ages from 5 to 65. Her most recent work, however, is as a specialist in the field of Child Sexual Abuse (CSA). Lorna will invite listeners to call in with questions and topics on public health as related to human sexuality and its links to prevention education. Check out her recent article on the NAASCA web site, 'Seize the Day: Time to illuminate the issue of child sexual abuse.'
 Felicia L Reed ~ 4th Thursday of each month
Felicia is a trauma-informed Recovery Coach and owner of Put It In Perspective, a Life/Spiritual/Christian coaching practice serving both individuals and groups. As a child and well into her adult years, Felicia suffered the entire spectrum of abuses. At 51, she began a recovery process of coaching and self-healing techniques that saved her life. Today she shares these tools and her experience to help others with their own recovery. In addition to her coaching business, Felicia has been a key volunteer and activist in community service programs for youth and women, and serves on cyber awareness forums that promote online safety.