Q&A with Dr. Debra Warner, Psy.D. ~ NAASCA BlogTalkRadio ~ TUESDAYS @ 8pm EST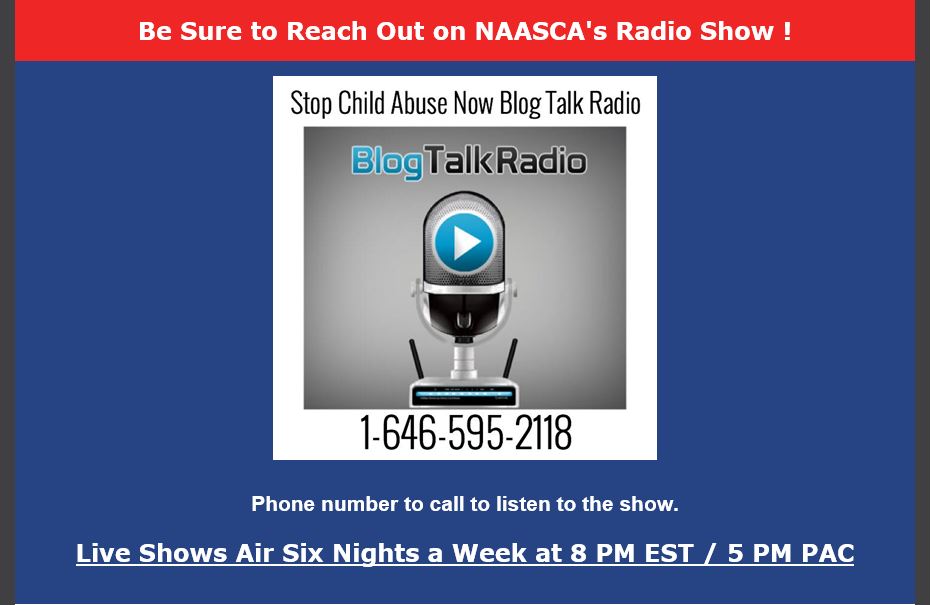 HOW TO LISTEN:  Go to SCAN BlogTalkRadio page. For the next LIVE show, under "Upcoming Broadcasts,"click the link to the upcoming show. On the episode page, at 8pm EST (show time), click the PLAY buttonin the middle of the NAASCA logo.
HOW TO CHAT:  Comments can be added below the live player on the episode page.
---
On Tuesdays:
You suggest the show theme–public safety, violence prevention or child abuse and trauma-–and special co-host Dr. Debra Warner, Psy.D., a Los Angeles based Forensic Psychologist and a professor at the Chicago School of Professional Psychology, will help NAASCA founder, Bill Murray, lead the discussion.
Everyone is invited to engage on tonight's show, on the phone or in our show's community chat room.
---
About Your Hosts
Dr. Debra Warner, Professional Psychologist
Dr. Deb is an educator and violence prevention expert and author of the book 'His History, Her Story: A Survival Guide for Spouses of Male Survivors of Sexual Abuse and Trauma', which is used as part of the LAPD's annual one-day SCRIPT conference.
Debra's understanding of the issues of child abuse and trauma spring not only from a professional perspective, but also from a personal one. Multiple members of her own family have been victims of predators. She brings her personal experience to every show as she shares her own experience of participating in her family's struggle with surviving and thriving.
Bill Murray
Bill is a nationally respected public safety and child abuse prevention, intervention and recovery advocate. He runs the world's largest grassroots nonprofit effort devoted to community-based policing, Los Angeles Community Policing (LACP) which has been continuously published since early 2002; and is also is the founder of the National Association of Adult Survivors of Child Abuse (NAASCA), a 501(c)3 charity organization with the single purpose of addressing issues related to childhood abuse and trauma including sexual assault, violent or physical abuse, emotional traumas and neglect from two specific perspectives: 1) educating the public, and 2) offering hope for healing and services to adult survivors.
Bill writes,
"Very few adults escape years of severe childhood sexual abuse, pre-pubescent X-rated photography, sex trafficking and a two week long kidnapping. But I have, and for some 35 years I've been in recovery from its devastating effects. Once my parents were gone, I decided to devote my remaining time, money and available energy to this vitally important cause."