Community Matters: CA News of the Week ~ NAASCA BlogTalkRadio ~ SUNDAYS @ 8pm EST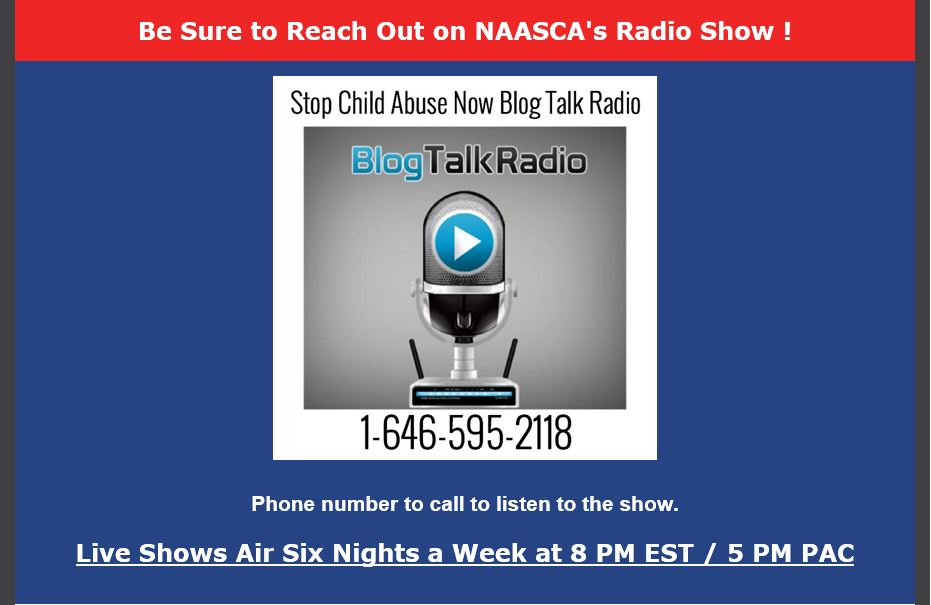 HOW TO LISTEN:  Go to SCAN BlogTalkRadio page. For the next LIVE show, under "Upcoming Broadcasts,"click the link to the upcoming show. On the episode page, at 8pm EST (show time), click the PLAY buttonin the middle of the NAASCA logo.
HOW TO CHAT:  Comments can be added below the live player on the episode page.
---
On Sundays:
Each week Community Matters focuses on new articles about child (sexual) abuse from around the world, discussing current events related to Child (Sexual) Abuse in an OPEN MIC discussion format that allows listeners to Call-In and participate during the show. Live chat rooms and call-in support related to child (sexual) abuse are also available during this time. (See below for more details.) 
For this week's articles that will be discussed on "Community Matters":
Go to NAASCA's website.
Under THIS WEEK'S TALK RADIO SHOWS, find Sunday's "Community Matters" and click NAASCA articles at the right.
Join hosts, Bill Murray, MJ Goyings, Carol D. Levine, Tammy Shoffstall, Terri Lanahan and other NAASCA family members, as they invite you to help them discuss the child abuse related news of the week from the National Association of Adult Survivors of Child Abuse.
"Community Matters!" Call-in participation is always welcome!!
---
About NAASCA
The all-volunteer National Association of Adult Survivors of Child Abuse has a single purpose, to address issues of child abuse and trauma including sexual assault, violent or physical abuse, emotional traumas and neglect .. and we do so from two specific perspectives:
educating the public, especially as related to getting society over the taboo of discussing childhood sexual abuse, presenting the facts that show child abuse to be a pandemic, worldwide problem that affects everyone, and
offering hope for healing through numerous paths, providing many services to adult survivors of child abuse and information for anyone interested in the many issues involving prevention, intervention and recovery.
We seek to build a survivor / activist community, believing that together we can do what we can not do alone.